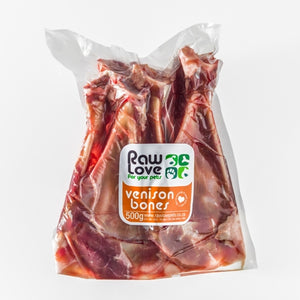 Raw Love Venison Shoulder Bones 500g
R 4600

R 46.00
Tax included.
---
---
Organic & free range, raw, meaty, venison shoulder blade bones.
IMPORTANT SAFETY STATEMENT
When starting to feed raw bones, it is important to keep an eye on your dog to understand his behaviour. You'll soon get to know whether your dog is a 'gobbler',  or a careful eater. Whether he can pace himself with the bone, or whether you have to intervene and take it away if he's chewing and biting it obsessively. Get to know how your dog behaves when given a bone. The health benefits of raw meaty bones are significant, but it is important to understand what the golden rules are.
We highly recommend the following videos and/or articles for more on the topic:
Dr Karen Becker – veterinarian specialising in pet nutrition – discusses important safety rules or "do's and don'ts" around feeding bones. Video available on YouTube in two parts.
Dr Karen Becker's synopsis:

 

8 Rules for Offering Raw Bones

 

to dogs to make sure your pets are safe.
Article

 

in the WholeDog Journal updated in March 2020.
Article

 

by Dana Scott from

 

Dogs Naturally Magazine.
Article

 

by Dr Conor Brady from DogsFirst.
Any books by Dr Ian Billinghurst or Dr Tom Lonsdale's on the subject
DELIVERY ONLY IN KZN