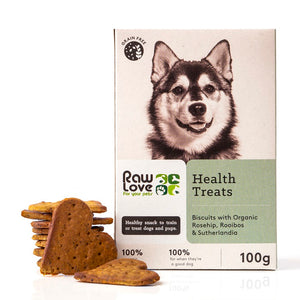 Raw love Health Treats
R 5500

R 55.00
Tax included.
---
---
Wheat Free Biscuits with Organic Rosehip, Rooibos & Sutherlandia.
Rooibos, rosehip and sutherlandia are believed to boost the immune system, to assist in the treatment of cancer and managing diabetes. Both rooibos and rosehip are often used to treat skin conditions.
INGREDIENTS
Lentil flour, free range eggs, raw organic honey, organic rosehip powder, organic rooibos, organic sutherlandia, organic cold pressed coconut oil, baking soda – NO ADDED SALT, SPICES, PRESERVATIVES, COLOURANTS – pure goodness!
MADE WITH MEANING
Our treats are hand-made with love by Down With Dough, a social enterprise that creates real and meaningful job opportunities for young adults with intellectual disabilities. Raw Love is proud to support this initiative.
Become a Down With Dough ambassador or business partner through Facebook @DOWNWITHDOUGH.ZA or Instagram @DOWNWITHDOUGH_ZA