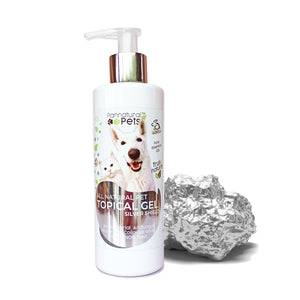 Pannatural Pets Silver Shield Topical Gel ANTIBACTERIAL, ANTIFUNGAL, ANTIVIRAL 250ml
R 9000

R 90.00
Tax included.
---
---
This Topcal Gel with the effectiveness of Colloidal Silver is antiviral, antibacterial and antifungal. You can use it for pets as a natural home remedy to help treat minor fungal and bacterial infections and is an antiseptic as well.
Use it on the bandages of your pet to reduce the risk of developing random infection.
May help to treat: hot spots, fungal toes, itchy skin, scratches, bruising, fungal infections, yeast infections, insect bites.
ANTIBACTERIAL, ANTIFUNGAL, ANTIVIRAL,
MADE WITH IONIC COLLOIDAL SILVER
• Finest 100 % natural ingredients
• Clean, non-sticky ingredients
• Nasty Chemical and Alcohol-free
• Eco-friendly
Contains NO: parabens, petroleum-based ingredients, artificial fragrances, SLS, DEA, synthetic dyes or perfumes, alcohol, .
Shake well. Rub into affected arreas. Apply daily 3-4 times a day for best result
Use post-op for bruising and soft tissue damage.
Warnings: Safe for Cats! For external use only. Avoid eye contact or ingestion. If irritation persists contact a veterinarian. Store in a dark, cool place
Ingredients:
Reverse Osmosis water,
Vegetable Glycerin,
Ionic Colloidal Silver, Xantan Gum,
Rosemary Essential Oil (Rosmarinus officinalis),