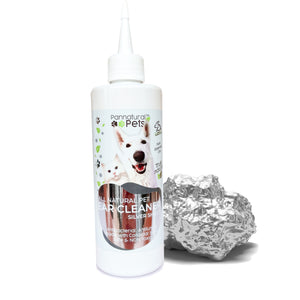 Pannatural Pets – Silver Shield Ear Cleaner ANTIBACTERIAL, ANTIFUNGAL, ANTIVIRAL 250ml
R 9000

R 90.00
Tax included.
---
---
This natural ear cleanser with the effectiveness of Colloidal silver antibacterial, antifungal, and antiviral. It gently cleanses ear wax, and may help to relieve pets from the discomfort of itchy, smelly and dirty ears. You can use it as a natural home remedy for helping to treat minor ear infections as well. Helpful for maintaining the health of ears. Gentle enough for use daily if its needed and after swimming, or bathing.
• Finest 100 % natural ingredients
• Clean, non-sticky ingredients
• Nasty Chemical and Alcohol-free
• Eco-friendly
• Certified Cruelty-Free
This product contains no soap, parabens, sulphates, petroleum-based ingredients, colorants, artificial fragrances, SLS, DEA, synthetic dyes or perfumes and anything that would harm your pet or the environment.
Reverse Osmosis water,
Renewable coco nut-based cleanser,
Vegetable Glycerin,
Calendula Oil Infused (Calendula officinalis),
Ionic Colloidal Silver,
Rosemary Essential Oil (Rosmarinus officinalis),
Castor Oil (Ricinus communis),
Sodium Bicarbonate,