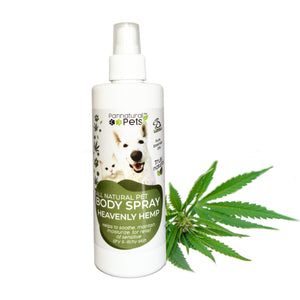 Pannatural Pets Heavenly Hemp Body Spray 250ml
R 8000

R 80.00
Tax included.
---
---
Our Hemp Body Spray helps to provide soothing relief! In just a few days you'll see a noticeable difference! It contains pure Hemp Seed Oil, Calendula, Aloe Vera. Together, these ingredients provide a natural helping hand for
a variety of symptoms resulting from pet skin irritation and inflammatory conditions. The naturally healthy effects of HEMP may help to: counteract itchiness, improve the production of sebum, reduce inflammation of the skin, relieve skin allergy symptoms, while hemp's antibacterial properties assist in healthy skin.
Helps to soothe, maintain, moisturize, for relief of sensitive dry & itchy skin
• Pleasant, herbal smell with pure essential oils
• Finest 100 % natural ingredients
• Clean, non-sticky ingredients
• Nasty Chemical and Alcohol-free
• Eco-friendly
Contains NO: parabens, petroleum-based ingredients, artificial fragrances, SLS, DEA, synthetic dyes or perfumes, alcohol, .
Directions for use: Shake well! Simple spray between the fur right on to the irritated skin (avoiding eye and mouth areas).
Lovingly massage it into the skin. Don't forget to reward with a treat! Repeat daily as needed for desired results.
Warnings: Safe for Cats! For external use only. Avoid eye contact or ingestion. If irritation persist contact a veterinarian. Store in a dark, cool place
Aqua, Aloe Vera (Aloe barbadensis),
Calendula Oil Infused (Calendula officinalis),
Hemp Oil ( Cannabis Sativa),
Vegetable Glycerin,
Coconut based cleaning agents,
Cedarwood Oil (Cedrus atlantica Bark),
Rosemary Essential oil (Rosmarinus Offcinalis
Natural Preservatives