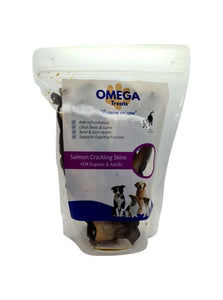 Omega Treats Salmon Crackling Skins Pet Treats -140g
R 9000

R 90.00
Tax included.
---
---
Omega 3 & Fatty Acids are essential for your pet. What better way to give it to them in the form of lip-smacking Salmon Skins.
These crackling skins have many key benefits:
Encourages healthy skin and coat
Promotes bone health, muscle & nerve control
Improves energy levels and prevents loose stools
Beneficial for heart health
Packed with nutrients, these are sure to be a hit!