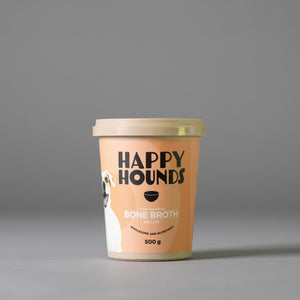 Happy Hounds Wholesome Bone Broth 500g
R 6000

R 60.00
Tax included.
---
---
Our meaty bone broth is a tasty meal additive packed with major nutritional benefits. Along with a healthy diet, consuming bone broth can provide benefits for dogs to support their overall well-being. Benefits include good gut health, detoxing the liver, and supporting joints.
Happy Hounds, Healthier Hounds, Happy Planet
Our tasty and healthy recipe is co-designed by top pet nutritionists, using only the freshest ingredients, gently cooked with love in our human-grade kitchen.
There are no ​​artificial colourants, flavourants, preservatives or added sugar
The result is fresh food that is nutritionally complete and balanced to promote optimal health for your happy hound.
We carefully select ingredients from nature to ensure they are not just healthy, but gentle on our planet. We support regenerative, small-scale farmers and fishers to ensure sustainability, traceability and inclusivity for a more ethical food system. 
By purchasing our product, you are supporting our local community-supply chain too. 
DELIVERY ONLY IN KZN