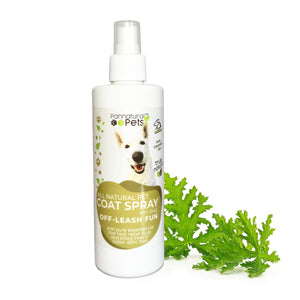 Pannatural Pets Natural Anti Bug Spray – Off Leash Fun, Insect Repellent 250ml
R 7000

R 70.00
Tax included.
---
---
This Non-Toxic, 100% Natural Spray is filled with natural repellents for biting insects. Contains Essential Oils of Khakibos, Rose Geranium, Citronella, Lavender / Natural Ingredients are well known to protect from insects (mosquitoes, fleas, ticks). Use before, during, and after walking, hunting trips, camping trips, day hikes, or wilderness events. It can be used on most parts of the body. Spray onto bedding for more protection. It can also be used daily as a spray for mosquito season. This product does not kill the insects but repels them.
Pleasant, refreshing smell
Finest 100 % natural ingredients
Clean, non-sticky ingredients
Safe for use on pet bedding
Nasty Chemical and Alcohol free
Eco-friendly
Ingredients: Aqua, Vegetable Glycerin, Citronella, Lavender, Rose Geranium and Khakibos (Tagetes Minuta) Essential Oils Directions for use: For use on dogs, horses and humans. Shake this spray well before using. Spray all over your pet or onto affected areas and rub down into the skin and fur. Apply enough sprays to provide adequate coverage: on back, underside, legs, back of neck, base of tail and outside ears (avoiding eye and mouth areas). Reapply when scent disappears. Spray onto bedding for more protection. Don't forget to reward with a treat! Avoid contact with eyes. If in eye, flush with water. If irritation persists contact a veterinarian. Store in a dark, cool place.