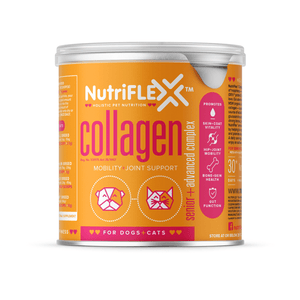 Nutriflex Collagen Advanced Mobility Complex For Dogs & Cats 250G
R 48000

R 480.00
Tax included.
---
---
NutriFlex Collagen Advanced is your pets daily scoop of happiness
An all-natural, nutrient-dense, protein-rich (86% protein by volume) "bone broth" powder for dogs and cats
. Our advanced daily complex is enriched with MSM (organic sulphur), vitamin C and joint-specific type II collagen — a naturally derived and synergistic source of essential amino acids, chondroitin, glucosamine and hyaluronic acid to promote strong bones, joint lubrication and muscle strength. NutriFlex enhances vitality, mobility and agility by helping to ease discomfort from stiffness and promote recovery following injury or surgery. A daily serving of NutriFlex can help your pet enjoy an active, happier and healthier life. PER 5 g Serving (Medium Breed / 1 Scoop per Day)
Hydrolysed Collagen
— Type I III (Bovine)
— Type II (Chicken)
MSM (Methylsulphonylmethane) as OptiMSM®
Vitamin C (Calcium Ascorbate)
OTHER INGREDIENTS: NONE Legal (Approved Health Supplement) Compliance: Registration No. V31175 Act36/1947 Department of Agriculture, Forestry and Fisheries (South Africa) Important: This is a nutritional product and is not intended as a substitute for veterinary products or advice.
Collagen Type I III
ANTI-AGEING
Helps offset the degenerative effects of ageing, promotes lean muscle, ligament and bone strength, aids gut health, improves skin health and coat shine. Collagen Type II
JOINT-SPECIFIC
A naturally derived source (from chicken sternum) of hyaluronic acid, chrondroitin, glucosamine and antioxidant proteoglycans which can help promote joint mobility, rebuild cartilage and connective tissues, replenish synovial fluid, ease discomfort from stiffness and promote recovery following strenuous exercise.
OptiMSM®
JOINT-HEALTH
A powerful immune booster, MSM supports active joint health and enhanced mobility, aids gut health and can help ease discomfort and aid recovery following injury or surgery.
Vitamin C
IMMUNE BOOSTER
Vitamin C buffered with calcium is a powerful immune booster and more gentle on the gut than regular vitamin C. Scoop Size: ±5 grams DOGS CATS SMALL BREED Pet Weight 5kg-10kg ½ Scoop (= 2.5g) DOGS MEDIUM BREED Pet Weight 11kg — 20kg 1 Scoop (= 5g) LARGE BREED Pet Weight 21kg — 45kg 1½ Scoops (= 7.5g) GIANT BREED Pet Weight 45kg 2 Scoops (= 10g)
NutriFlex™ Collagen is non-GMO and FREE FROM:
SUGAR
ARTIFICIAL SWEETENERS
GLUTEN
GRAIN
COLOURS
PRESERVATIVES
FILLERS
BULKING AGENTS